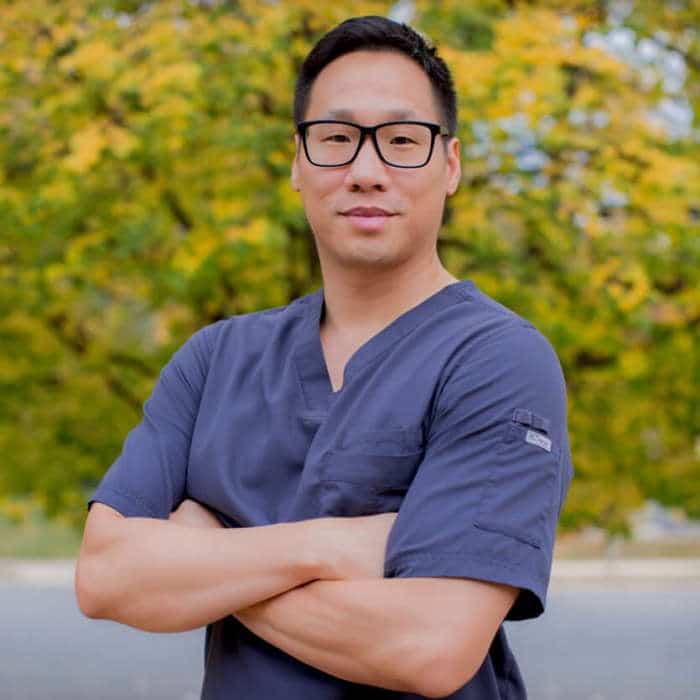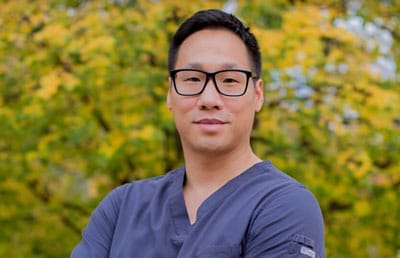 Your Chiropractor in Fairfax VA
Dr. Gregory Lee D.C. is a trusted & highly rated chiropractor in Fairfax, Virginia. As a leading Fairfax chiropractor, Dr. Gregory Lee has been invited to deliver talks at Harvard Club of Boston, CBS News, FOX News & NBC News. He has received more than 1200 5-star reviews.
Active Family Wellness is ranked as the top chiropractic clinic in the Fairfax area. We treat neck pain, lower & upper back pain, herniated disc, sciatica nerve leg pain, degenerative disc disorders, scoliosis, vertigo, headaches, shoulder pain, osteoarthritis, whiplash from auto accident, etc.
Dr. Gregory Lee DC has incorporated advanced techniques into chiropractic examination and chiropractic care treatment plans. He treats subluxation by using spinal adjustments, chiropractic adjustments, spinal decompression, etc. He is also certified in the Webster Technique and treats pregnant women & children.
If you are looking for a trusted chiropractor that understands the changing health care needs of the people in Fairfax, call us at (703) 373-7113.
Verified Reviews | Active Family Wellness
Verified Google Reviews
Verified Yelp Reviews
Verified Facebook Reviews
Verified Google Reviews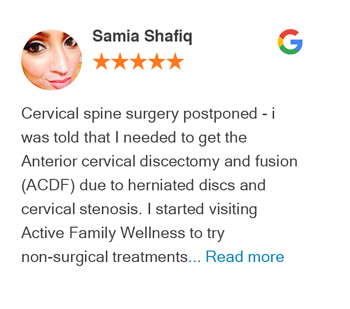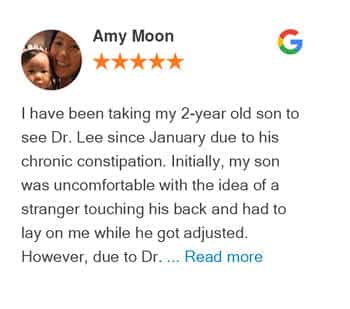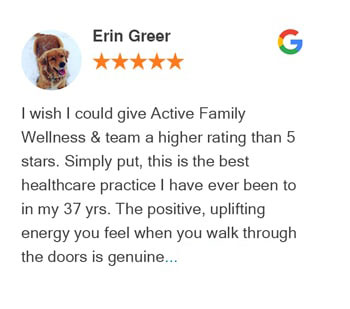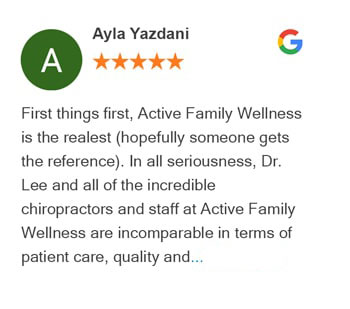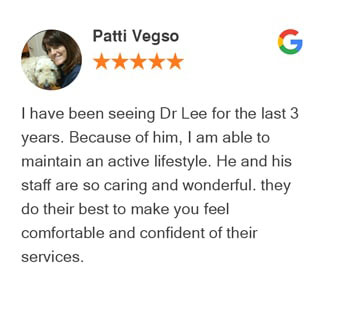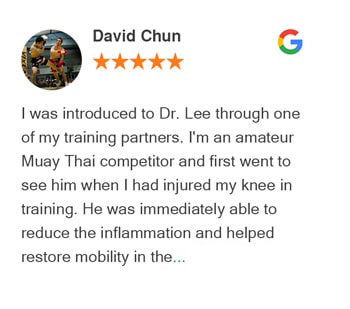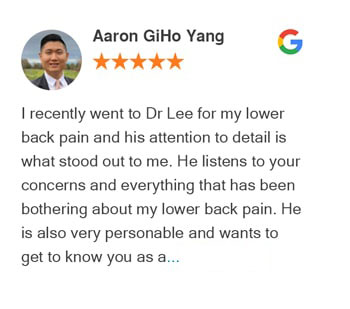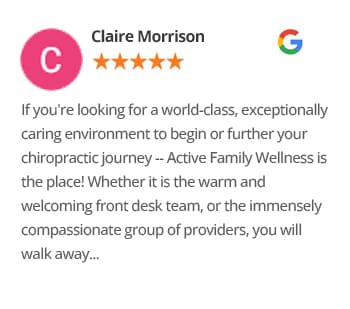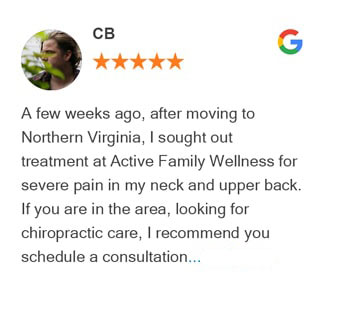 Verified Yelp Reviews
Verified Facebook Reviews
Give Our Chiropractic Office a Call
Existing patients, call (703) 373-7113 to book an appointment.
New patients, use the tool below to request an online appointment.
Note: The doctor's assistant will call you shortly to discuss your symptoms and finalize your appointment. Please note your appointment will be confirmed after a doctor's assistant follows up with you. We are looking forward to seeing you in the office!
Insurance Accepted | Active Family Wellness
We accept almost all insurance plans depending on the coverage. Please call our office to discuss insurance coverage. We are in-network for Anthem and Blue Cross Blue Shield. We also offer different payment plans to help patients.

Dr. Gregory Lee DC attended Virginia Tech and matriculated to New York Chiropractic College, graduating Magna Cum Laude and as a member of the Phi Chi Omega honor society. During this period, he found time to tutor his fellow students in neuroscience, gross anatomy, radiology, and patient assessment.
Education:
Doctor of Chiropractic – New York Chiropractic College, 2007
Attended Virginia Polytechnic Institute and State University
Certifications:
Webster Technique

Dry Needling
Chiropractic Technique:
Diversified, Drop Table, Activator, SOT, Applied Kinesiology, Cranial Sacral, Ellipse Tool, Kinesio Taping, Muscle Reset, Pregnancy and Pediatric Adjusting, Specialize in Car Accident treatment.
Professional Memberships:
Unified Virginia Chiropractic Association Award Recipient
American Chiropractic Association
Total work experience
Over the last decade, Dr. Gregory Lee DC has become highly skilled and passionate about treating pregnant patients, infants, and young children to help them achieve healthier lives. He enjoys treating expecting mothers to help them achieve a comfortable pregnancy and safe labor and delivery.
Dr. Janine Cutinho DC was raised in Toronto, Canada, and moved to upstate New York to attend New York Chiropractic College. While her interest in healthcare began at a young age, her passion for helping others truly expanded during her time as an undergraduate student at the University of Waterloo in Ontario.
Dr. Tyler Kruse DC was born and raised in Minnesota. Dr. Tyler graduated Cum Laude with a Doctorate in Chiropractic and Specialization of Sports Emphasis from Northwestern Health Sciences University, currently ranked as one of the Top Five healthcare campuses in the world. 
Our Mission Statement | Active Family Wellness
Active Family Wellness is an award-winning health and wellness center with a welcoming, family-friendly environment and professional staff that upholds the highest values and standards of integrity. We aim for efficiency while never compromising the quality of our care and are committed to helping and educating our patients to find healing and discover a healthy way of living.
Why Choose Fairfax Chiropractic
Team Active Family Wellness can help. Active Family Wellness is here to optimize your quality of life, from automobile accidents to sports injuries to pain or health concerns relating to work. Some common injuries and concerns that patients seek help for include: back pain, neck pain, headaches, knee pain, shoulder pain, TMJ disorders, a bulging or herniated disc, and more.
Dr. Gregory Lee DC, an award-winning Chiropractor, has won OpenCare's Patients Choice winner award, America's Best Chiropractors 2020, Best Of Virginia 2023, and many other awards.
Dr. Gregory Lee DC believes in giving back to the community. Dr. Gregory Lee DC is very active in the community and volunteers his time with women shelters and local MMA participants.
Cutting Edge Chiropractic Care
Dr. Gregory Lee DC and his team are dedicated to helping you achieve your wellness objectives. With expertise spanning the entire wellness spectrum, the Active Family Wellness team aims to inspire patients to commit to a healthy and enhanced lifestyle through the education and practice of chiropractic wellness care.
Location | Active Family Wellness
Active Family Wellness
Address: 11350 Random Hills Rd, #300, Fairfax, VA 22030, United States
Phone: 703-373-7113
Frequently Asked Questions
What is Chiropractic Care?
Chiropractic care focuses on the mechanical disorders of the musculoskeletal system, focused on the spine. A chiropractic treatment starts with a complete diagnosis to identify the root cause of the pain. Chiropractic care uses a non-surgical approach to treat patients. Chiropractic care involves a series of full-body chiropractic adjustments to treat subluxation. The chiropractic philosophy believes that the human spine and body have the power to heal themselves with chiropractic adjustments.
What Does Chiropractic Treat?
Chiropractic care treats lower and upper back pain, neck pain, shoulder pain, degenerative disc disorders. Chiropractic care aims to restore the communication flow with a spinal adjustment. It does not involve any surgeries.
What can I expect on my first visit?
On your first visit, the chiropractic clinic would conduct a chiropractic examination to identify the root cause. Chiropractic clinics would use various diagnostic tools to conduct the exam. Your Chiropractor would prepare a report of findings, which would be discussed in the second visit. On your second, Chiropractor would also start a treatment plan.
Is it affordable? Will my insurance cover it?
Chiropractic care is very affordable and often covered by many insurance providers. Most insurance providers cover it. Surgeries often cost tens of thousands of dollars, while chiropractic care is significantly affordable. You can call a chiropractic clinic or your insurance provider to understand your coverage in detail. There is an insurance card that typically contains important information needed to determine chiropractic coverage.